Brenk
Gumbo
with "gumbo", vienna based beat maker and producer branko jordanovic alias BRENK, provides a ruff first insight into his creative process as a beat maker over the last years.
how do 60 minutes in the life of a maniac, who's steadily pounding beats in his cave, nearly eating or such, sound like?
Well...guess pretty similar like a fresh made spicy gumbo with loads of spices and herbs!
brenk's recipe: everything from late 60's and 70's soulmusic to mid 90's westcoast hiphop, from dusty acid rock records and early synthesizer stuff to dilla and pete rock.
you'll get to know and recognize brenk's personal note within minutes, but still - the vibe changes, developes, goes up and down every minute, revealing new subtle ingredients with every new bar.
After working with various austrian and german acts like dephjoe, madoppelT, kamp or nico suave, brenk is currently working with detroit heavywheight MarvWon and westcoast legend king T, who's about to drop the likwit crew reunion album!
Till that fine peace of music gets released, enjoy soulfood for the ears in it's best form!
40 beats, skits and all kinds of madness and just a dash of what's coming!
BUY
Get this release at ITUNES
Get this release at HHV.de
Get this release at GOALGETTER
| | |
| --- | --- |
| VÖ: | 22.04.2008 |
| Label: | Supercity |
| Kat. Nr.: | sc002 |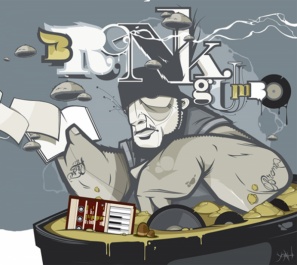 09. Auuu/Imagine
13. Interlude 2
15. Lovesoundz
17. Hey Love
18. Interlude 3
22. 4 a Million
23. Extra Clip
25. Black Sky
27. If I
30. I Love This Shit
32. So Lil Time
34. Endtro
35. I See
39. Aw Yeah
40. Outtro