JR&PH7
The Standard
Supercity is back with a brandnew release! Just ready for springtime, this will blow your ears hopefully!
Included in this package you´ll find the debut album of two german HipHop producers, who go by the names of JR&PH7, entitled "The Standard".
If you remember the first Groove Attack compilation "Superrappin" you´ll catch pretty exactly, what this joint is all about. The warm sound of the album is deeply rooted in 70s funk & soul music and influenced by the golden age of HipHop. True to the heart HipHop tunes, that work well either in hiphop clubs or at home, as of course in your portable music device or in your car.

The featurette on "The Standard" is huge, with numerous well known U.S. underground HipHop artists and guest vocalists such as Rakaa (Dilated Peoples), Planet Asia, Edo G., Guilty Simpson, Skyzoo, Black Milk, Edgar Allen Floe, Oddisee and many more, just to name a few.

This is not about bling, fancy ringtones and all that, it´s about rappers, who got something to say. Groovy beats and soulful sampling combined with heavy drumming make this album a listening pleasure for the audience and JR&PH7´s mission pretty simple: It´s about where you´re at, not where you´re from.
Real music for real people.
BUY
Get this release at HHV.de


| | |
| --- | --- |
| VÖ: | 20.03.2009 |
| Label: | Supercity |
| Kat. Nr.: | SC020 |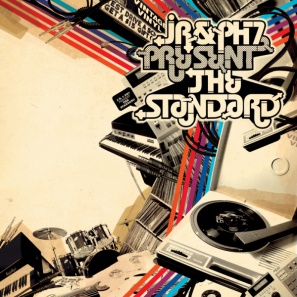 01. Intro
05. Interlude
12. The World Keeps Turnin´

(ft. Larissah Sirah)