Waxolutionists
We Paint Colors
Sunshine Enterprises proudly presents the new long player of the Waxolutionists!
We had to wait, but finally here it is...and it was definitely worth the wait! The world famous Waxolutionists from Vienna present their fifth long player "We Paint Colors"!
Following the success of their last 12" "Feet don´t fail me" feat. Dave Ghetto, Hezekiah & Mystic, "Flashlight" feat. Hygher Baby, and "Dance with me" feat. Dave Ghetto, Hezekiah & Mystic, the Waxos deliver a full spectrum on their LP.
Whether it's classic rap-tracks, soulful deep affairs, dark Detroit inspired tunes, jazz-influenced tracks driven by live-instrumentation or new styled fresh beats... it's all there... and under the magic hands of the Waxolutionists, it just fits together - naturally. They definitely paint colors!
Mainly produced by DJ Buzz, the Bionic Kid and the Twintowas are also responsible for some beats on the album, as well as for many of the live instruments, which create that organic sound we love! You can be sure there are also some fresh electronic beats for you hipster-beatheads out there!
One for the German and Austrian fans out there -- and we know you were waiting for it -- we got the legendary "Freifach Musik" at the album, already part 3! And there's a banger with long-time friends Manuva of Total Chaos fame, Roger of Blumentopf and Flowin´ Immo! More classic Waxos joints on the Jazz side of things are there with "Eos" or "Field of Wonders". And "Atlas" or "Morning Dew" are the tunes for the Beatheads amongst you!
The Waxolutionists also worked together with a bunch of great MC´s and long time friends; they add the icing to the cake!
Find the rapper of the moment Blu out of Los Angeles on "Steel remains", Detroit legend and half of the duo Frank n Dank, Frank Nitty, on "On!!!", or the great Rusty Redenbacher of the Mudkids on "Take this Job".
Outstanding are definitely also the tunes, which have been released already on 12" vinyl: "Dance with me" and "Feet don´t fail me", both feature two of Philadelphia's finest, Hezekiah & Dave Ghetto, plus that girl Mystic out of L.A. And Sweden's finest Hygher Baby aka Pure P of Up Hygh fame and singer Melo, provide the vocals on the deep Flashlight!

The Lp&CD come with the finest sleeve design by swiss german artist dust!
Don´t miss out on this - be part of a future classic!

BUY

      Get this release at HHV.de
      Get this release at iTunes
      Get this release at Discogs


| | |
| --- | --- |
| VÖ: | 01.01.2010 |
| Label: | Sunshine |
| Kat. Nr.: | SR 088/01 + 02 |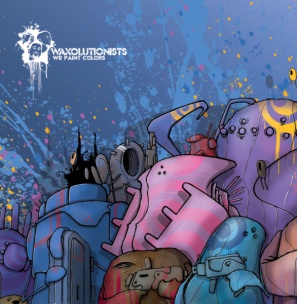 01. Intro

(ft. Rich Medina)

03. Strictly Solid

(Skit)

12. Relaxing Waxing

(Skit)

19. Kill Kill Kill

(ft. Big Red & Dj Vadim)

21. Outro

(ft. Rich Medina)