26. Januar 2009 Mahdi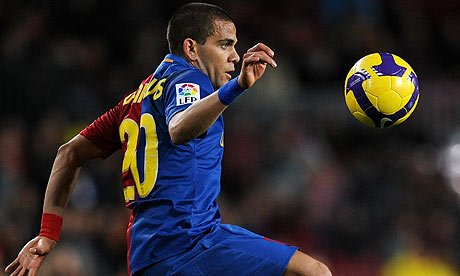 Der (rechte) Aussenbracker ist im modernen Fussball der Schlüsselspieler, da er wichtig bei der Spieleröffnung ist und mittlerweile der Spieler mit den meisten Ballberührungen. Blumenau schreibt eh immer wieder über die Bedeutung des Aussenbrackers und warum z.b. Pacult mit seinem Verbot an Dober und Thonhofer ja nicht die Mittellinie zu überqueren vollkommen keine Ahnung von gar nichts hat.
Einer der die Rolle so gut spielt wie sonst keiner und von einem grandiosen Trainer trainiert wird, ist Dani Alves. Da wir bei den ganzen Vergleichen sind, Alves wäre wahrscheinlich Pete Rock oder Erick Sermon, auf jeden Fall "he's wicked like Three Sixes and doper than the Pete Rock Remixes".
Sid Lowe hat eine Hommage für ihn geschrieben und alles schön erklärt. Was mir bis heute ein Rätsel ist, ist wie dieser wunderbare Spieler irgendwie der Bruder von Alex Alves sein kann. Aber im Grunde kann es nicht anders sein. Hertha ist bekannt für das Scouting. Sie haben auch damals statt Ronaldinho Marcelinho geholt, obwohl sie Ronaldinho billger hätten haben können und dass sie sich beim Bruder irren, war ja auch klar.
Tags: Barca, Dani Alves, Fussball, Taktik
Kategorie
Allgemein
,
Sport
|
2 Kommentare »
« Vorherige Einträge